Illuminated signage solutions are great because they not only look fantastic, they are immensely eye-catching. They serve multiple purposes; they add to your business's overall aesthetic, they provide lighting and they are great marketing tools, perfect for increasing visibility. They are great for external signage but also internal signage. Nothing stands out on a busy street at night better than an illuminated sign and they make great indoor lighting options. As an Edinburgh based signage company, we serve businesses throughout Scotland and the UK offering them high-quality, bespoke illuminated signage solutions at a great price. We can take care of every element of designing your illuminated signage from design to maintenance, meaning you can just sit back and enjoy your brand new illuminated signage. Neon signs are slightly different but can be used to great effect when illuminated signage options don't fit the project.
Illuminated signage covers a lot of different products. At The Evolve Group we have a huge range of them to offer you including halo illumination signs, light boxes, faux neon signs, real neon signs, backlit letters, edge lit letters, face lit letters, individual illuminated letters, sign trays, trough lighting, spot lights, flex face signs, lit fret-cut fascia, outdoor LED signs and cabochon bulb signage along with many other kinds of illuminated signed, both indoor illuminated signage and outdoor illuminated signage. There are so many options with this type of signage, but if you want something more custom or bespoke, we can also help you with that.
Our design team can create unique, luxury and bespoke illuminated signage solutions, exactly to your specifications. Our team is adept at using internal illuminations in various signage projects and so understand the needs of this particular signage. Take advantage of their expertise and receive beautiful and functional illuminated signage. Our manufacturing team will then carefully and expertly fabricate your illuminated signage, using the most effective and up-to-date methods. Our design and manufacturing teams work closely together to achieve the best possible product for our customers. Not only do we make illuminated signage, will install and maintain it too.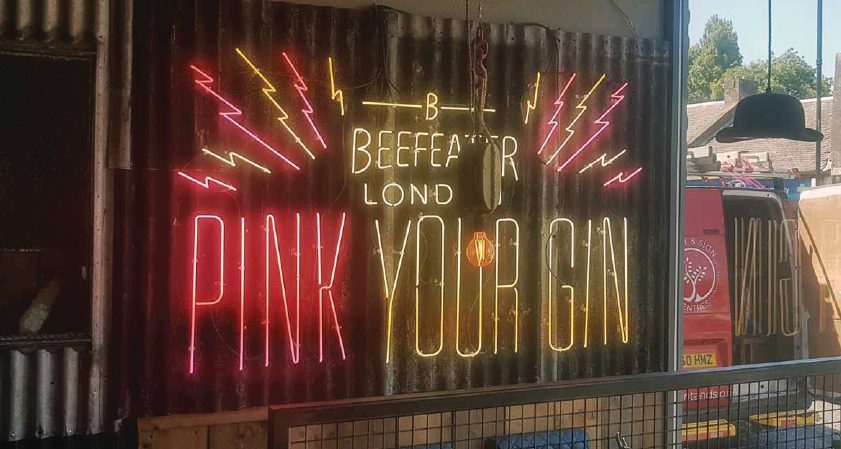 Illuminated signage installation is slightly more complicated than ordinary signage installation due to the electrical elements of this signage. Our team of installers know exactly what they're doing however and are trained and certified to install electrical signage and illuminated signage. Health and safety is one of our main concerns. Our installers will have conducted a thorough survey of the site to ensure they can install your illuminated signage safely and correctly with minimal disruption to your business. We offer nationwide installation and also offer further maintenance on your illuminated signage to ensure you get the best wear from your investment. Evolve the look of your business with our high-quality, bespoke, affordable and attractive illuminated signage, it's the perfect way to light up your business!
Our Installation team carry out site surveys where sizes and photographs are taken, ground and wall conditions are checked, and a technical drawing is produced from this. Site Meetings take place with project and event managers to determine and agree installation methods and positions. Where required our Installation team will complete risk assessments and method statements and organise work permits and road closures if necessary. Our Installation team are qualified and trained in all types of graphic and sign installation as well as the safe use of access equipment, plant and scaffolding. Our Installation team offer Nationwide coverage.