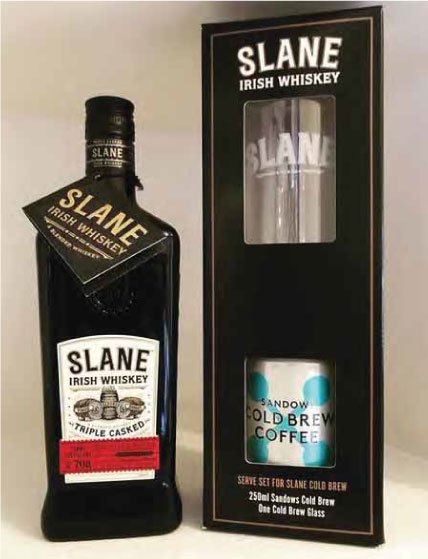 Brief: Design and create a bespoke Gift Pack for Slane Irish Whiskey to promote the launch of Slane in Supermarkets UK-wide as well as a unique serve combining whiskey with cold brew coffee. The pack needs to stand out on shelf, fit the height of the shelf, effectively display a branded brew glass and a can of Sandow's Cold Brew Coffee as well as being on brand. Once the packaging was designed and printed, it was our job to make each pack up, packing the products into the inserts and delivering to a distribution warehouse ready to line the shelves of ASDA stores across the country.
Strategy: We started by mocking up some blank samples to gauge the size of the outer carton and insert required to hold the items. Once this was developed, the design stage was next on our agenda. The window size needed to be big enough that the branding of each item could be seen but small enough to stop any items falling through. The sides of the box were used to show various cocktail recipes to use Slane as the main component including the recipe for a Slane Cold Brew Coffee Cocktail. The glass was designed to look like
a brew can with a distinctive shape and can lip at the top. To support the box on shelf, tests were carried out to see how the box should be packed and it was determined that the can should be placed at the bottom of the pack due to its weight. Once the pack was designed and printed, we put a team of fulfilment technicians together to do the packing. We ran tests to assess how long each part of the process would take and made efficiencies along the way to ensure maximum productivity.